History -
2012: Earthquake in Italy
Tuesday, 29th May 2012, 9:01 am: a 5.8 earthquake strikes Cavezzo and its surroundings. The WAM factory in Ponte Motta is left extensively damaged. Fortunately, there are no casualties, but some people cannot return to their collapsed homes. Vainer Marchesini experiences the quake during a meeting in his office on the upper floor. Apart from naked fear, it's the feeling of total powerlessness against the force of nature that leaves people shudder. In the days following the disaster, Marchesini gives not only the employees of WAMGROUP, but also the entire population of the Modenese lowlands what they need most at this moment: confidence in the future. Today, hardly anything reminds of the disaster of six years ago in the factory in Ponte Motta. The plant has been heavily modernized and expanded into a corporate headquarters. The mission for the coming years is growth in all areas.

photo: Collapsed warehouse in Ponte Motta and clean-up in Cavezzo ten days after the quake
---
Innovation -
Production systems
Localisation of production in various countries requires special innovative power on the part of the corporate industrialisation department and logisticians. Thanks to long experience in dealing with authorities in the development of a site or in training local operations staff, the team managed to shorten ever further the period between the laying of the foundation stone and the start signal for a new production plant.
---
Values -
Customer
An old wisdom holds that it's the customer who pays your salary. However, he will do so only as long as he or she is satisfied with your product and service. For us at WAMGROUP, the customer is not just the one who pays us, but an authoritative reference in the development of new products. Our job is to identify common needs of the customers of an industry and to develop a sector and application-specific standard that will satisfy everybody.
---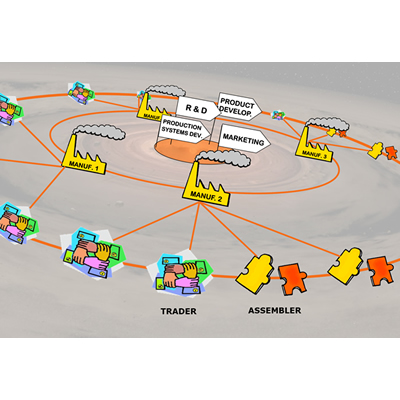 Mission -
Innovation not only in product design
Innovation at WAMGROUP is not limited to product development and design. Being innovative is an attitude that applies to every area of responsibility within the company. You can be innovative when creating a new process or a new sales or marketing tool. Pioneering spirit has always been described as the driving force in the development of WAM's business model since the early days. As a pioneer, you enter unfamiliar territory. Communicating such an attitude towards junior employees is the task of our founding generation. Let's face it, if you stay curious there will always be new territory to discover.

photo: The WAMGROUP "constellation"
---
---